Auto insurance is required in the state of Florida. In order to drive, your policy must meet the state minimums. Unless you speak directly with an insurance agent, you may not know exactly what you're paying for and what is covered. Furthermore, the coverage under a specific plan can vary from company to company.
The following information should not be construed as legal advice, but it will give you a general overview of how insurance policies work. If you are injured in an accident and need to file a claim against your policy, speak with a car accident lawyer. A lawyer can help you understand your coverage and what you're entitled to under the law. In the event you need to file a claim, your attorney can fight for the compensation you deserve for medical expenses, property damage, and more. If you're researching different types of auto insurance coverages or you were just involved in an accident, the following information on insurance and policies in Florida could provide some clarification.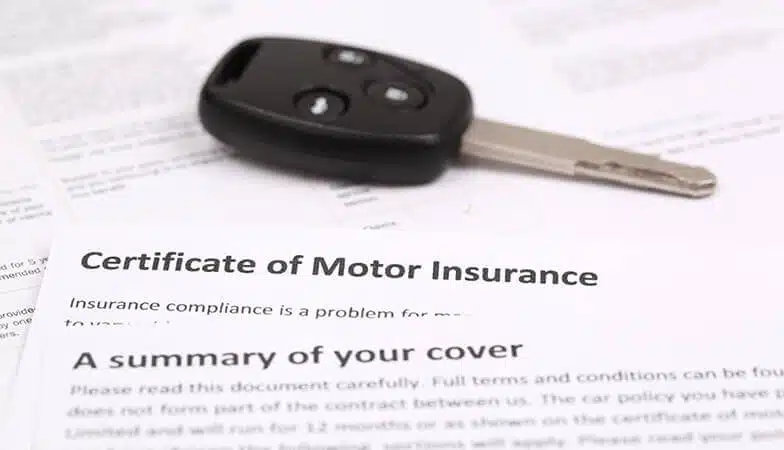 Contact Us for a FREE Evaluation of Your Insurance Policy
What is the Minimum Insurance Requirement in Florida?
Florida law requires every registered vehicle operating on the road to have insurance. If the driver does not have a vehicle of their own, it's their responsibility to verify that the vehicle they're operating is insured. Every vehicle operator is required to purchase the minimum coverage amounts for both personal injury protection (PIP) insurance and property damage liability (PDL) car insurance for vehicles that they own or lease, or to verify coverage if they're operating someone else's vehicle.
Remember, Florida is a no-fault insurance state. This means that if you are injured in an accident, your car insurance should pay your medical costs up to your policy's limits, regardless of who caused the accident.
The minimum limits for Florida car insurance are:
$10,000 of no-fault or personal injury protection (PIP) insurance.
$10,000 of property damage liability (PDL) insurance.
Personal Injury Protection – Personal injury protection, on top of covering your part of medical expenses and income loss, can also cover other members of the household, your child (when riding a school bus), you, and other passengers in your car in certain circumstances.
Property Damage Liability – Property damage liability auto insurance in Florida will cover you for damages you cause in a car accident to someone else's property, such as a home or building.
While Florida law requires these as the minimum amounts of car insurance coverage every driver must have, you can always purchase a higher amount of coverage if you wish to do so. These types of optional coverage include:
Bodily Injury Liability
Comprehensive
Collision
Towing and labor
Rental car coverage
Remember to thoroughly research each different policy in depth prior to deciding on the best car insurance policy for you.
What Does Florida's Basic Auto Insurance Policy Cover?
Before deciding the best option for you and your needs, be sure to do extensive research on all of the options available. Look into which types of coverage are required, and how different forms of coverage work.
Remember that the policy you choose will cover you, the licensed members of your household who are listed on the policy, and normally any others you give permission to drive your car.
Make sure you meet your state's car insurance requirements as well. Almost every state requires by law that all drivers carry a minimum amount of auto insurance to cover damages or injuries caused by you or your car in the event of an accident.
When you're reviewing your policy, whether before an accident occurred or after one, there are six basic types of coverage you might come across in your policy: bodily injury liability, personal injury protection, property damage liability, collision coverage, comprehensive coverage, and uninsured/underinsured motorist coverage.
Bodily Injury Liability
Bodily injury liability covers the medical expenses of someone you or a household family member injure in a crash. The policy should also cover drivers who use your vehicle with permission and injure someone else. The insurance company will pay for injuries up to the policy limits. If you are sued, your automobile insurance company will provide legal representation for you.
Personal Injury Protection
In Florida, drivers are required to carry a minimum $10,000 in personal injury protection (PIP). PIP is also known as "no fault" insurance as it covers medical costs after an accident, regardless of who was at fault for the crash. Broadly speaking, PIP will cover medical bills, lost wages, and other expenses incurred as a result of the accident. In order to qualify for PIP, you must seek medical treatment within 14 days of the accident.
Property Damage Liability
Property damage liability covers damage you, or someone driving your vehicle, caused to someone else's property, such as their vehicle, home fence, business, etc.
Collision
If you're in an accident with another vehicle or hit a fixed object, such as a light post, collision coverage can help pay to repair or replace the vehicle after you pay your deductible. Collision coverage is not always required.
Comprehensive
Comprehensive coverage can help cover your vehicle for damages that aren't caused by a collision such as fire, theft, natural disasters, falling objects, or vandalism. You will have to pay a deductible before the insurer reimburses you for a covered claim. Comprehensive coverage is also not required but can be very beneficial.
Uninsured/Underinsured
If you, a member of your family, or a designated driver is in an accident with an uninsured driver or a driver who flees the scene, uninsured motorist coverage can help pay for your losses.
Underinsured coverage can be helpful when an at-fault driver has insufficient insurance to pay for your total loss. Underinsured/uninsured coverage may also apply if you are involved in a crash as a pedestrian.
Here's What Florida's Full Coverage Car Insurance Policy Covers?
"Full coverage" is a phrase used to describe an auto insurance policy that includes liability, comprehensive coverage, and collision. This covers the three major types of loss that might occur when using your vehicle. There are no actual policies called "full coverage."
What is Collision vs. Comprehensive Coverage?
Collision and comprehensive insurance are both types of auto insurance which the insurer pays for vehicle repairs. While there are many different types of auto insurance coverage, collision and comprehensive are two of the most common.
Comprehensive insurance – Comprehensive insurance covers damages from an "act of God," including accidents such as a heavy tree branch falling on the car, or a hurricane causing flood damage.
Types of damages covered under comprehensive auto insurance include:
Natural disasters: storms, tornadoes, hurricanes, earthquakes, hailstorms.
Fire, civil commotions, explosions.
Vandalism and theft.
Damage from impacts with animals, such as a deer. Note: a crash from swerving to avoid animals will likely fall under collision.
Broken or shattered windows and windshield.
Falling objects.
Collision insurance – Collision insurance will cover crashes with other vehicles, crashes into a fixed structure, and more. Majority of car crashes and auto accidents will fall under this kind of insurance policy.
Crashes covered under collision insurance include:
Crashing into another car, or another car crashing into you while you're parked.
Driving into a stationary object, such as a tree, streetlight, or pole.
Crashing into a ditch or a pothole.
Car flipping over.
A hit-and-run, if you can't use uninsured motorist coverage.
The main benefit of collision insurance is that you have the capability to file a claim and receive reimbursement, regardless of which party is at fault. Another benefit is that you only deal with your own insurance company, rather than another insurer with less incentive to pay for your claim. Collision insurance may also be used toward your rental car, which can spare you from having to buy rental car insurance and pay the daily amount towards the rental.
Car Insurance Extras and Add-ons Explained
Along with the basic coverage options, your policy may list some extras that come in handy in an emergency, such as tow truck services after a car crash.
Rental Reimbursement
This can help you pay for a rental car if your vehicle is being repaired after a crash covered under your policy.
Roadside Assistance
Whether your battery died, you have a flat tire, or your car needs to be towed to a repair shop, roadside assistance can help offset some of these costs.
Gap Insurance
If you don't own your vehicle and have an accident, gap insurance can pay the difference between the value of the vehicle and your outstanding balance on a loan or lease.
Windshield Repair
If you have only the bare minimum in Florida, you may want to consider windshield repair or comprehensive coverage. Under comprehensive coverage, policyholders can get their windshields replaced with zero deductible (Florida Statute 627.7288).
The typical components of a car insurance policy can help protect you and your vehicle. But don't wait until you're in an accident to find out what is covered under your plan. Always review your plan and determine if you need to switch insurers or buy more coverage.
If you have been involved in a crash, you should immediately contact an attorney. Car crash lawyers at Weinstein Legal, can help determine what is covered under your policy and successfully obtain the compensation you deserve.
How to Get a Free Car Insurance Policy Evaluation
Not sure what's covered by your auto policy? Know BEFORE you need to, and equip yourself with the knowledge you need to make a smart decision about your insurance coverage.
What's Included in My Insurance Evaluation?
During your consultation, attorneys at Weinstein Legal will review the declarations page of your auto insurance policy, and help to answer questions like:
Does my car insurance cover theft?
Will your policy cover vandalism?
Are you covered for flood damage?
Does my insurance cover rental cars?
Is my child covered under my car insurance?
Does my car insurance cover hurricane damage?
Are repairs covered under your policy?
Does my policy cover scratches?
Will your auto insurance cover hail damage?
Are other drivers covered?
Does your auto insurance cover a cracked windshield?
Will my insurance cover towing?
Is water damage covered by your policy?
Does my auto policy cover natural disasters?
Is my boat trailer covered by my insurance?
Are car seats covered under my policy?
Does my car insurance cover fallen trees?
Will I be covered for hitting a deer?
Are medical expenses covered by my car insurance?
Does my car insurance cover me in a different state?
If someone keys your car, does insurance cover it?
Is your car bumper covered under insurance?
FAQ about Florida Car Insurance Policies
If you've been injured in an accident in Central or South Florida, or the Treasure Coast, contact Weinstein Legal. The car accident attorneys at Weinstein Legal will personally answer your questions and determine whether or not you have a claim. The following are some of the most frequently asked questions by car accident victims about their insurance policies.
Are My Damages Limited to the Amount of My Policy?
Yes, many people are confused by the concept of "no-fault" insurance. If another driver is responsible for your injuries, you can pursue them or their insurer for additional damages. Many Florida drivers carry Bodily Injury insurance, which insures them against injury claims from drivers they've injured.
Are Florida's Minimum Insurance Requirements Enough?
Most attorneys and legal experts recommend that you buy additional insurance. For example, even though the state doesn't require Bodily Injury liability coverage, many drivers carry a $100,000/$300,000 BI policy. That means the policy pays up to $100,000 per person and $300,000 per accident. Not carrying these coverages leaves you open to personal liability if you cause an accident with injuries.
What Other Types of Insurance are a Good Idea to Purchase?
According to the Orlando Sentinel, one in five Florida drivers are uninsured, making this state the sixth worse in the country. If you're injured by an uninsured or under-insured driver, you may only be able to recover the limits of your policy. Uninsured/Underinsured Motorist Coverage protects you against this scenario.
Why Shouldn't I Take an Immediate Settlement from the Adjuster?
Oftentimes, car accident injuries don't become apparent for days or weeks after the accident. If you accept a settlement before you know the full extent of your injuries, you may find yourself unable to pay for your medical bills — especially if you're out of work for an extended period of time.
The car accident attorneys at Weinstein Legal work on a contingency basis. They will review any offer from the insurance company for free. Contact the Weinstein Legal Team before accepting any insurance company settlement offer. Additionally, Weinstein Legal offers a free car insurance evaluation for anyone that requests one.